The Guestbook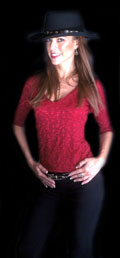 Submitted by Jennifer C. from Gaffney South Carolina USA
Date: Fri Oct 17 22:01:06 2003
I think what you are doing to honor your sister is wonderful. I think you have a beautiful voice and can't wait to hear more of it. I've been a fan of your brother for about a year. Keep on singing girl!
Submitted by Pollyanna from london ontario Canada
Date: Wed Oct 15 20:37:39 2003
hey i put my name into the google serch and this came up i have no idea who this pollyanna is but she has a great name :)
Submitted by Cony Dorough :) from Temuco IX REGION Chile
Date: Sun Oct 5 17:32:22 2003
HI polly how u doin'?!! hope u are ok :)
i wanna say something for all your brother's fans out there :)
Take care... AND PLEASE COME TO CHILE GIRL WE ARE WAITING FOR U! :)
Quiero dar un Aviso a todas las Fans de Howie D, Tanto Aquí en Chile como en el Resto de SudAmérica y El mundo.
I wanna give some good news to all the Howie D fans, Here in Chile and Of all the rest of South America and the world.
Paulina Dorough y Yo hemos creado un club de yahoo y una pagina de nuestro proyecto.
Paulina and Myself created a Yahoo club and a web page of our project
Este fans club es muy importante para nosotras, porque amamos a Howie y estamos seguras que Uds tambien :).
This fans club is very important to us, because we love Howie and we are sure that u love him too :)
Con esto queremos promover la proxima carrera de Howie y dar todo el apoyo que necesita, al enfrentarse a una etapa nueva en su vida, y hacer sentir el amor que le tenemos.
With this we want to promote Howie's solo career, and give him all the support he needs, facing a new project in his life, and make him feel all the love we have for him :)
Como dije anteriormente, es el primer fans club de nuestro latin lover que surge aca en Chile, y es Oficial Por eso necesitamos su apoyo.
As a said previously, this is the first Fans club of our Latin Lover here in Chile that's why it's official, but we need your support.
EL Fans Club se llama "Boricua's Lovers" y tiene su direccion es:
http://espanol.groups.yahoo.com/group/boricuas_lovers_chile/
The name of the fans club's name is "boricua's lovers" and it's address is :
http://espanol.groups.yahoo.com/group/boricuas_lovers_chile/

También sale el link para la Pagina Web del Club.
Also Appears a link to the Club's web page.
No se preocupen por las poquitas cosas que hay aun... porque cada día se irán actualizando y se irán incluyendo mas archivos para que todas podamos disfrutar de ellas. Si Uds Quieren tb incluir algo sientanse en todo el derecho, para que podamos todas ver al amor de nuestras vidas, y unirnos todas por Howie.
Dont worry about the few things we have now... because every day we are going to add some files so we can enjoy them. If you wanna add something please feel in entire right to do it, so we can all see the love of our lives and all get togheter for Howie.

Muchas gracias ;)
Thanks a Lot ;)


Cony Dorough :)

Submitted by rana from chicago il USA
Date: Fri Sep 26 12:20:33 2003
i really love your music.This web site is very cool ....iam having a prb with this crazy howie fan she always come online asking me to call bsb howied and i keep telling her i dont know his number and she gose to all of these howies posers she always ask them for free concert ticks and cars and jewlery and she just like to gave howie orders..shes alway in the chat telling pps that howie better come to the chat room and chat with her and he better be at his house shes really annyoing shes gose to bsbblvd chat room and shes 27 years old
Submitted by Juliana Antunes from Taubaté SP Brazil
Date: Thu Sep 25 18:04:45 2003
Hey Polly,
Thanx for replying my message. I actually didnt expected for that at all, knowing that you're a very very busy woman. Thank you so much!!! you just made my day. God Bless!!

Your fan,

Juju Antunes

ps: your family are on my prayers

Bye!
Submitted by Juliana Antunes from Taubaté SP Brazil
Date: Wed Sep 24 21:08:53 2003
Hey,
Its me again. Forgot to say that your bro was hella good on the latin grammys!!!

You ROCK sweet D !!!!!!!!!

Love,

Juju
Submitted by Juliana Antunes from Taubaté São Paulo Brazil
Date: Wed Sep 24 20:56:32 2003
Hey Pollyanna,

Whats up? Hope you're doing fine. My name's Juliana and I've always been a HUGE BSB fan since I was 15 (now I'm 19). your brother is my favorite bsb guy, he's a sweetheart!!! I was sooo happy when you and the guys came here (Brazil) among with Kristal for concerts and I have to say, you're a talent singer. I was amazed by your voice!!
I spent a month camping with my friends in front of the concert's location just to see you and your brother (among with the other backstreet boys) and I can tell that it was the best day in my life.

God bless you and your WONDERFUL family!

Your brazilian # 1 fan,

Juliana Antunes : )
Submitted by Verona from Barcelona Barcelona Spain
Date: Wed Sep 24 10:25:29 2003
Heya Pollyanna!! Im Verona, a 18-years-old girl who has grown with BSB music. I love them, specially your bro Howie. I think he is totally amzing! I dont have words to describe him! Thanks to BSB and Howie ive met you and your music and im so happy 4 that.
I love Dorough family! Os tengo muchisimo cariño y espero algun dia poder conoceros.

I wish all da best 4 u and Howie!
Os deseo todo lo mejor en esta vida a ti, a Howie y a toda tu familia!

Loads of kisses xxxx

VeRoNa
Submitted by SAM R from LA CA USA
Date: Tue Sep 23 08:00:20 2003
I miss ya all, I love ya Pollyanna, Howie D
long time no see I love you allllll
Submitted by Cathy Hernandez from Sanger California USA
Date: Mon Sep 22 14:58:44 2003
Hello Pollyanna,

Just wanted to say hello and give you the link to the bowling fundraiser that me and some of my friends are doing for both JNN and DLF on Nov. 15,2003 well take care and god bless.

Love
Cathy Hernandez

http://www.angelfire.com/music/bsbonline4fever/fundraiser.html
Submitted by Jhie from Toronto Ontario Canada
Date: Mon Sep 22 13:13:19 2003
Hello PollyAnna...

just wanted to say I love Fly To Heaven...its such a great song. Wish u all the best in the future. take care....
Submitted by Jhie from Toronto Ontario Canada
Date: Mon Sep 22 00:59:26 2003
Hello Pollyanna!
U've got such a great voice. i love Fly to Heaven...its so sweet. take care alwaize.
Submitted by AJM_GIRL from salwa Kuwait
Date: Sun Sep 7 20:55:39 2003
hoooowwooow wow.....hey becarful when you say your pulshits galz....that girl in the pic aint howie gf that girl is 1 of his friends and his gf is a "Model" so dont say about howirto that he dunno how to choos a woman or he dont know the bauty and u forgot that if she's not beautiful so her heart is so lovly and her personality is so great..so dont be nigative with howied..... and here you gonna see his real girlfriend : http://bsblatino.metropoliglobal.com/reportajes8/teen-howie-julio03.htm
Submitted by Nathalie from Netherlands
Date: Sun Sep 7 04:53:23 2003
Dear Pollyanna, I love your voice and wish you a lot of luck in your carreer. I hope you will get as much as succes as your brother Howie!
Submitted by lorelei from quezon city manila Philippines
Date: Thu Sep 4 05:34:43 2003
Once I was obsessed with SWEET D, Although I wasn't so into BSB nowadays the guys well remain in my heart,so as everything ,and everybody related to them like GEORGEOUS POLLY .

KEEP IT UP BIG GIRL!